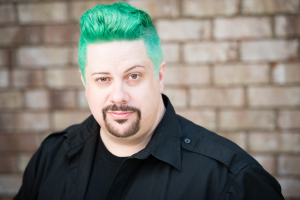 I began providing social media architecture when I connected with passionate small business owners who had successful offline businesses but were afraid to dive in and create an online name for their business.  Many times the social media space felt too overwhelming or confusing to understand, yet, competitor businesses were establishing themselves and quickly overshadowing late adopters.
Enabling change is my specialty.  I take an analytical approach to each client and customize the social media plan to set the groundwork for the business.  Every client has a logo but behind that logo is a story and it is important to shape it with a suitable personality.  My goal is to create a comfort level with social media language, unwritten rules and tools so that all of my clients learn to be savvy social media achievers.  In the end, people connect with people and the right online experience enhances customers' attitudes, likeliness to return, and builds meaningful relationships.
Progressing from a stand alone website to a connected online existence takes careful consideration and planning.  I have over 13 years experience in the travel industry specifically focusing on creating memorable customer experiences and exceeding customer expectations.  My background includes leading and organizing massive training roll outs and producing comprehensive training programs for new strategic directions.
Partnering together means your business is tapping into my online expertise.  I design, prepare and develop your social media map and coach you to comprehend and manage every element so that your business is properly represented.  Your business will progress in social media and you will have the opportunity to thrive.
My offices are in Fairfield County, Connecticut and I work with clients locally and nationally via virtual desktop.  Please contact me to find out more about customized speaking engagements on topics such as social media for business and social media for parents.
line called Massimo Dutti if you have a little more money, they have beautiful leather jackets that look designer for about
cheap michael kors bags
350 500. I got a jacket in the same family as in green on Black Friday in 2013 from Old Navy. I was worried it wouldn be as versatile as my large black winter coat, but I wear it all the time and feel like I don look like a sleeping bag, as most of the girls on my giant college campus do. The hood is enormous and super thick and soft with a wire rim so it stays where you put it. It so toasty and the perfect length to cover my butt but not inhibit my ability to walk normally. The coat has an interior jacket that can be worn
cheap Michael Kors
on
cheap replica michael kors
its own and the shell can be worn on its own so it basically three jackets. The pockets have side pockets and front pockets in one so I can put my
cheap michael kors handbags
keys and cell phone in the front pocket and still have a toasty place for my hands without things falling out. I love it to death and it SUPER ridiculously cheap
replica cheap Michael Kors
right now. I actually kind of tempted to get it in another colorSelling to Retail Stores "Whether one realizes it or not, selling to department stores can be a boon or a bust . . . heaven or hell. "But first, we have
michael kors cheap
to define "department stores."
Michael Kors handbag outlet
They are almost a thing of the past. What we have now are a few chains such as Federated, Belks, Target, May Company, Penny's, Sear's and Montgomery Ward,
cheap Michael Kors
to name the most prevalent ones. What has taken the place of the many department stores that were in most cities are the "category killers" such as Wal Mart and Office Depot and Costco, some chain theme stores, and then some catalogue houses. "Department stores are a trade
discount michael kors
show for the public. If one goes back in the history
fake michael kors
of commerce, one would find that they grew to the size they are because the started small and began to expand or buy out other small retailers. It was an economy of size that prompted this growth. "If one wants to sell the department stores one should be aware that the bigger the chain, the harder bargain they drive.
Articles Connexes: