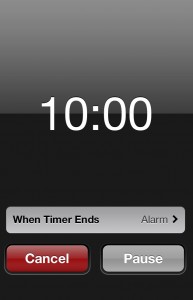 Earlier this month, my friend Matt Baier posted an inspirational blog on "The Secret to the 10 Minute Purge".  Matt is a Professional Organizer, and this blog gives some excellent guidance to breaking through your organizing barriers to achieve results. This really spoke to me as I sometimes fall in the trap of feeling overwhelmed with my own To Do List.
But would this same concept work when applied to blogging? Could I write an actual blog in 10 minutes by focusing my energy and working within specific time constraints?
Well, so far today… 5 minutes and 37 seconds have passed, so it's looking good so far.
Seriously. One of the biggest obstacles bloggers face is simply sitting down and writing. We often have ideas in our heads, but if we play the role of a perfectionist too much, our message may never get out there.
So today, I encourage all of you who blog to try these steps.
1. Select your blog topic.
Don't overthink this. What topics are relevant to your field today? What have you been speaking about to your friends?
2. Set a timer.
I know, it may sound intimidating… maybe even counterproductive, but setting a timer for 10 minutes does help to break the barrier of "I don't have time to do this." We're all busy, but don't we ALL have 10 minutes to spare at some point in the day? This makes writing a blog completely manageable in your schedule.
3. Imperfect is OK.
Yes, I borrowed almost all three of Matt's points from his blog, but that's because they work here, too! Don't get caught up with the details of perfection. You can always tweak the blog later.
But you'll be surprised to find that you can write a blog in less than 10 minutes. And you can break through another obstacle that allows your voice to stay out there for your readers!
How do I know?
9 minutes and 26 seconds.
Done.
DO YOU BLOG? If you do, try this and SOUND OFF IN THE COMMENTS BELOW to let me know how this worked for you!