Today's post is a guest blog from Matt Baier of Matt Baier Organizing.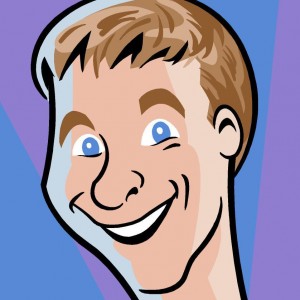 My memory is poor. I mean bad. Oh, I remember stupid crap like cigarette ads on TV from the '60's, but important stuff? I studied four languages and can't remember ANY of them. So since I can't rely on my memory, I rely on systems, so much so that I made setting up systems, my life calling, as a professional organizer. I find myself needing systems for everything and social media is no exception.
This guest post is really a testimonial for Brian Bish, my social media architect. I knew I couldn't get social media to work for me unless I got an expert to set up a system for me.
Brian started by getting me clear on what type of audiences I am seeking. For me, that's mostly busy moms and realtors. He recommended that I go a little heavier on businesses and business groups on Linked in, non-business on Facebook, and everything on Twitter. That's a loose guideline, not a rigid formula.
Of course, rigid formulas are so much easier. They don't require thought. That's good for me. I figured I'd start with a formula and throw in loose interactions, when I have time for them.
The answer to that formula can be summarized in two words: Hoot Suite. Brian impressed upon me the possibility of devoting just one small block of time to devote to social media every week. That really appealed to me, as I don't have the time to be on social media ALL the time. An hour over a beer at Coalhouse Pizza every Sunday afternoon, allows me to cover my audiences with a carpet bombing of social media all week, thanks to HootSuite.
With HootSuite, I can schedule posts on Facebook, Linked In, and Twitter from one source. Brian recommended a quote every day. Smart guy. Quotes always get a lot of responses. I choose to do quotes at 9:30am to ALL social media.
Next up, something for the busy moms. At 10:05, I schedule a post find related to parenting, time management, life hacks, recycling, etc. on Facebook and Twitter. At 10:30 I send out a general organizing blog, again on Facebook and Twittter. That's where I will schedule my own bi-weekly blog. By the way, I always include Twitter in my posts. Brian says you can never Tweet too much.
At 10:55 I always have something for the realtors on Linked In and Twitter. It will be a post related to home staging, real estate, architecture, unusual homes, or interior design. I will then do a retweet at 3:00 and 4:00pm.
If I read a post at anytime during the week that inspires me, I will comment and interact with the poster. Brian tells me this is the most important part of Social Media. Yeah, I'm terrible at it. I suppose it's because I don't find anyone as interesting as me. Also, I'm lazy.
Another great piece of advice from Brian that I ignore, is to comment on trending topics, which is a challenge for the terminally unhip, like me. I suppose realizing the problem is the first step.
Oh, and hash tags, that's so easy. Why can't I remember to include hash tags on Twitter (and now on Facebook)? Oh yeah, it's because I have a bad memory.
Don't get me wrong. I really don't enjoy beating myself up. I guess the points I'm making are:
1. Don't be afraid to just dive in to social media,
2. Find a way to make it work for you
3. be patient and unafraid to make adjustments
Despite my social media shortcomings, I have had a couple clients tell me that the reason they hired me was because they saw me all over social media. Not too shabby. Now what did that cost me? (Come on memory!) Oh yeah, NOTHING. Well, maybe a beer at Coalhouse, but somehow I can live with that.
I should add one final point, which is: get help. There's a lot to know with this social media stuff and odds are very good that you've got better things to spend your time, energy, and frustration on, so trust your social media needs to an expert that will save you of all three.
Trust Brian Bish. I do.
Matt Baier is the owner of Matt Baier Organizing, who's team of organizers, who can be relied upon to get you expertly organized, quickly but safely, throughout Fairfield and Westchester counties. Check out Matt Baier Organizing and see how they work.