What can I say?
I always LOVE live-tweeting an event, and the Oscars last night did NOT disappoint!
While all social media sites were on fire with commentary, Oscar Host Ellen Degeneres really brought Twitter to the forefront by posting pics and updates live from the stage and the audience.
There were so many wonderful moments, but these ones made my Top 5.
MOST. EPIC. SELFIE. EVER.
Ellen Degeneres made history with possibly the best selfie EVER! Why? Because this celeb-jampacked selfie included Bradley Cooper, Jennifer Lawrence, Meryl Streep, Brad Pitt, Lupita Nyong, Jared Leto (well, part of him), and several others. Ellen hoped she would beat the record for the most retweets ever, and she succeeded! (Even if she did crash Twitter for a couple minutes…) Over 2,500,000 retweets and still going!
If only Bradley"s arm was longer. Best photo ever. #oscars pic.twitter.com/C9U5NOtGap

— Ellen DeGeneres (@TheEllenShow) March 3, 2014
And yes, everyone online is getting in on the fun. Even yours truly.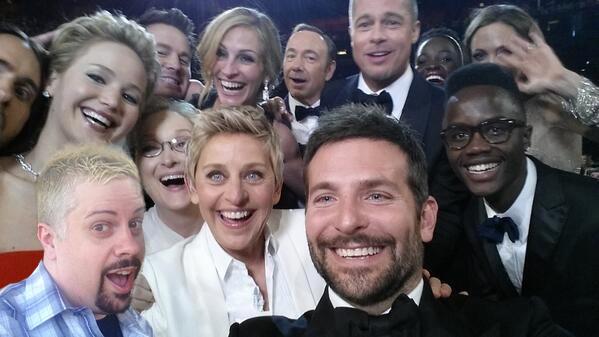 AND NOW, INTRODUCING…
John Travolta was supposed to introduce Idina Menzel to sing "Let It Go" from Frozen. I say "supposed to" because he actually introduced her as "Adele Dazim". Fortunately, though… Adele Dazim is on Twitter. (No… really… an account was created within minutes of the flub!)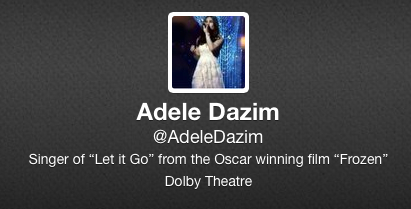 POOR LEO
Last night marked the fourth time that Leonardo DiCaprio lost at the Oscars. And this time to Matthew McConaughey… (what? seriously?) While this is sad for Leo, the memes that have come out of this have been deliciously evil!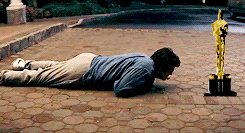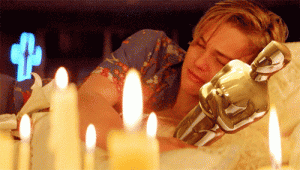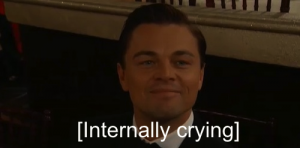 PIZZA ANYONE?
Ellen had pizza delivered to the Oscars. I swear! She mentioned that the stars must be hungry in one segment, and in the next she ushered in a delivery man from Big Mama's & Papa's Pizzeria. The delivery man was NOT an actor (lucky guy!), and the local pizza chain quickly jumped on Twitter to join in the fun.
#Oscars #BMPP, Thank you Ellen! pic.twitter.com/IHmtjW39qg

— Big Mama"s & Papa"s (@BigMamasNPapas) March 3, 2014
INTERACTION
OK. So this one isn't one you'll see in the tabloids, but it's just as important. The interaction of live-tweeting an event is EVERYTHING. Not only did I have lots of favorites, retweets, and some new followers. I had fun! And isn't that what it's all about? I always remind people that Social Media should always be SOCIAL! And it really was last night!
In fact, I can't wait for the Tony Awards to do it all again!
So… what was your favorite moment from the 2014 Academy Awards?
SOUND OFF in the comments below!