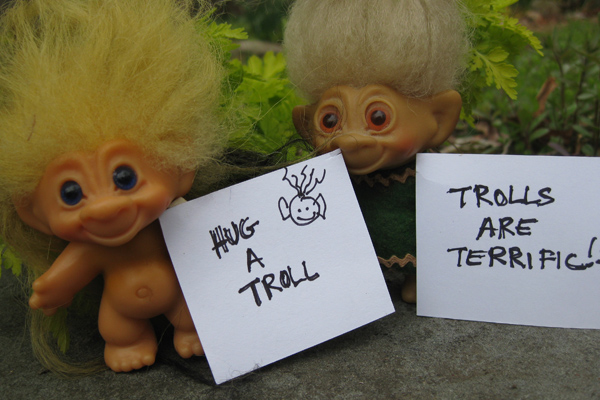 A typically cheerful group of troll dolls banded together to file a defamation lawsuit against online trolls. Astrid Hansen, spokeswoman of the new-formed Brotherhood of United Trolls (B.U.T.), hopes that this symbolic legal action will raise public awareness of troll dolls and combat animosity towards trolls. "When this generation of Americans know the facts about trolls, they will cease to think of the word troll as synonymous with monster".
A Danish woodcutter named Thomas Dam created the original troll dolls in 1959. Mr. Dam was short on cash and made a wooden doll with a wild tuff of sheep's hair & big glass eyes as a Christmas present for his young daughter. Once other children saw the impossibly cute imp, Dam began carving more. "Good Luck Trolls" quickly became popular throughout Europe. Trolls came to the United States in the early 60's and were a huge fad during the mid 1960's.
The word "troll" became part of Internet slang sometime during the 1990's.
Online trolls are individuals who delight in posting provocative or inflammatory messages in online chat rooms, forums, blog comments sections and elsewhere on the interment. It must be noted that trolls were often maligned in Scandinavian folklore as well.
B.U.T. hopes to educate a today's children about the troll dolls' happy origins and foster tolerance & acceptance. Head of B.U.T.'s PR initiative, Casper Eriksen, mentioned that it would be darn nice to start another troll doll craze. The soft economy has also affected their people.
Thank you Wikipedia for the info on Troll Dolls and Internet Trolls!
And thanks to Gay Gasser of Mirth in a Box for writing this super fun blog post!
Gay Gasser is the owner of the Mirth in a Box. Mirth in a Box is the fun place to shop for camp, college and boarding school care packages and cheery get well gifts. Check her out on Facebook, Twitter, and also on Mirth in a Blog!!!