Wow! It was a rough night, but we all survived it.
Even the most calm and organized person wasn't truly prepared for the events that transpired in the wee hours of the morning. We all sat clutching our cell phones in fear as we watched the inevitable happen, and we were powerless to do anything about it. It just happened.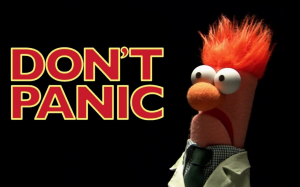 Facebook and Instagram were BOTH down simultaneously for approximately one hour.
What?
Oh yeah. There was a blizzard, too.
But did you miss what I said?
Facebook and Instagram were BOTH down simultaneously for approximately one hour.
I even heard that the popular dating site Tinder was down as well. I mean, it felt like we were seeing the End of Days here, people!
Oh yeah. And there was a snowstorm, too.
But alas, Twitter was up and functioning, so we all had a place to go and vent…
… about Facebook and Twitter being down.
Here are some of my favorite tweets from the night:
I want to post a photo of my dead Facebook screen, but I don't know where to upload it with Instagram down. If Twitter crashes, I'm lost!

— Augie Ray (@augieray) January 27, 2015
Facebook and Instagram have been down for 30 mns. Just read 4 books. — Chris D'Elia (@chrisdelia) January 27, 2015
Instagram and Facebook are down because they can't handle your duck face anymore. #InstagramDown #FacebookDown

— 9GAG (@9GAG) January 27, 2015
Picture of snow. Picture of dog. Picture of plate of food. Funny text message. (Instagram is down but this should make up for it) — elan gale (@theyearofelan) January 27, 2015
Be honest. With #FacebookDown, did you almost go to Google+? These are hard times, nobody will judge you.

— Eric Agnew (@EricAgnew) January 27, 2015
BREAKING: At least 4 people signed up for Google+ while Facebook and Instagram were down. Nearly doubling Google+ numbers. — Totes McGotes (@TotesMcGotes) January 27, 2015
TODAY'S QUESTION: Be honest. Were you having a little bit of withdrawal when Facebook and Instagram went down? Or did you even notice?
What are you doing to pass the time as we recover from this storm. No… the real one. With snow and wind? Yeah. That one.
SOUND OFF IN THE COMMENTS BELOW!